Hangar 5 Warehouse of Aerolineas Argentinas
Nicolás Papini
Aerolineas Argentinas announced the commissioning of Hangar 5, the largest hangar in Latin America with a total area of 12,017 m2 together with two complementary buildings, the "Warehouse of Aeronautical Materials" (Hangar 5 Warehouse) with an area of 7000 m2, and the Services building that contains the firefighting facilities, the water reserve, compressors, transformer station and generator sets with a covered area of 2200m2.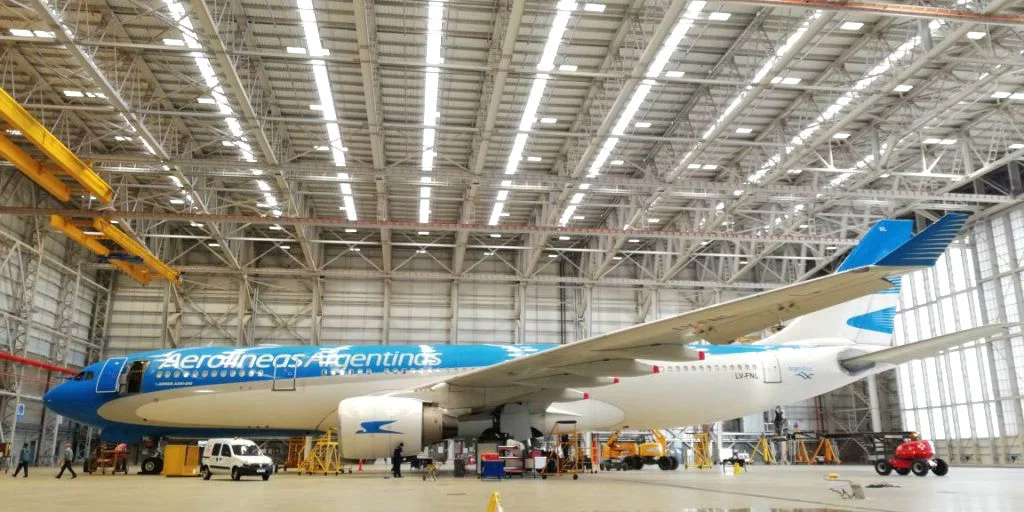 Capacity
The "Hangar 5" is placed in the industrial facility of the Ezeiza international airport and allows to work simultaneously on 2 wide-body aircraft or on four Boeing 737s of the 800 & Max series, such as those owned by Aerolineas Argentinas for regional & domestic flights.
The building was designed in an environmentally friendly way by having low-energy LED lighting, a reuse system for rainwater for cleaning work and, on the other hand, the floor allows the collection of industrial liquids that are derived from one of the adjoining buildings for treatment.
Security
"This hangar allows us to continue working and investing in security, with the best technology and increasing the productive capacity of our industrial plant," said Mario Dell'acqua, president of the Airlines Group.
The hangar will serve to carry out the so-called "major" maintenance tasks, which are those that are carried out approximately every year and a half and that involve the complete revision of each of the aircraft components.
Hangar 5 Warehouse project development.
In this project, the detailed engineering of the 7000m2 Hangar 5 Warehouse metal structure was developed, with a total weight of 317Tn.